Jira is an exceptional project management tool that allows teams to collaborate effortlessly and stay organized. It also provides comprehensive functionality that makes tracking and planning issues, milestones, and deadlines easy. In the following paragraphs, we will provide you with a step-by-step guide on how to effectively use a calendar for Jira to promote collaboration and enhance project management.
Why Use Jira Calendars for Teams?
Using a calendar for Jira is an effective way to manage projects and tasks. It is a great solution tool for teams to stay on track and organized. Users can create issues with deadlines and assign task start date/due date, allowing the team to focus on the key deliverables. They also help teams to keep track of commitments and coordinate their tasks. This is especially useful in large projects where multiple issues need to be accomplished at the same time.
Users may find a simple calendar view in Jira:
Here they can see current tasks and use some filters only for a single project.
Planning with Jira Calendar Plugins
For those, who need an advanced view of all projects & issues for separate users or even for entire teams in one place Jira offers a wide variety of add-ons, that will broaden your planning and tracking capabilities.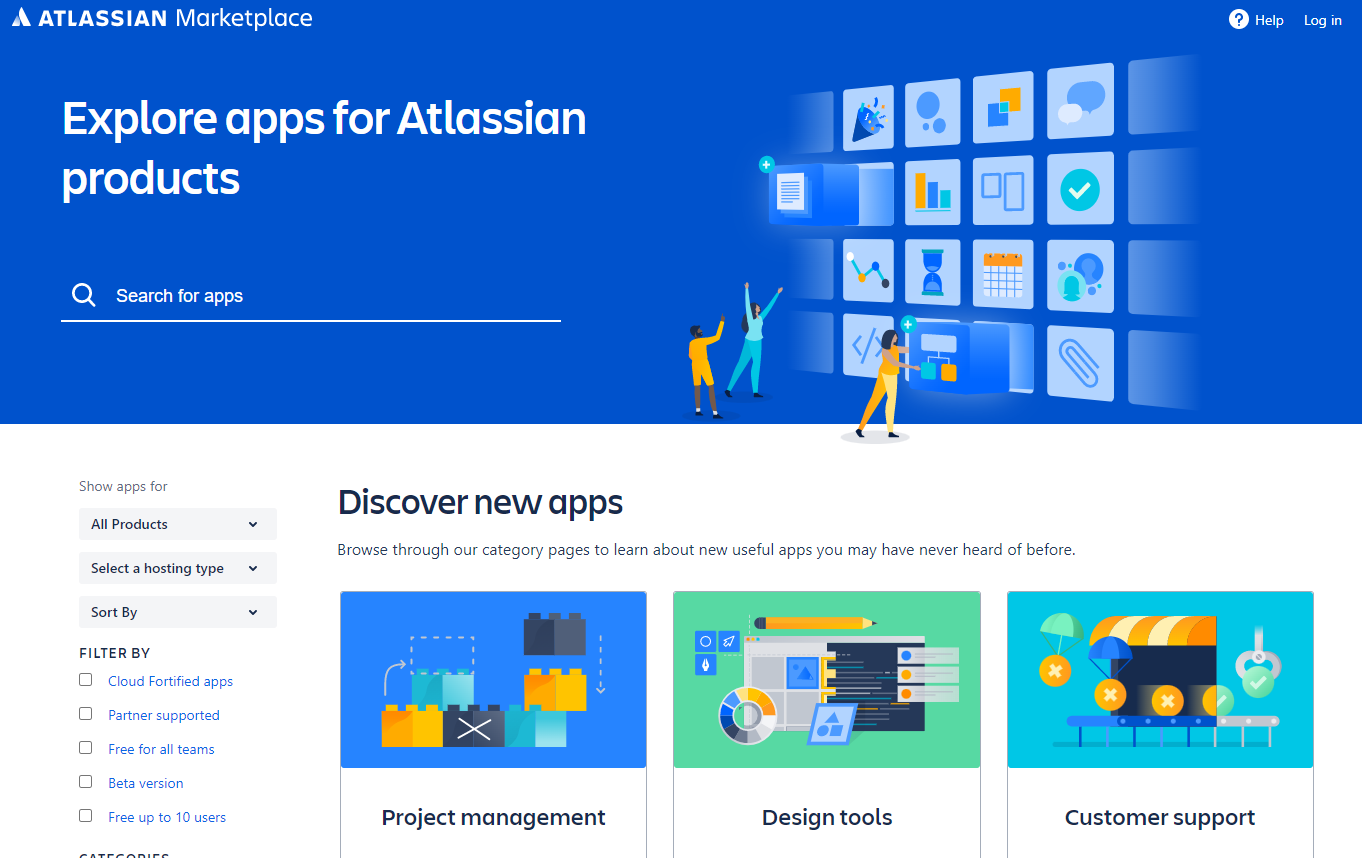 For those concerned about privacy and security, Atlassian has developed the "Marketplace Bug Bounty program", which provides partners with the assurance that plugins, like the ActivityTimeline – Resource Planning and Tracking tool, have a high level of convenience and consistently meet the credibility standards of the Atlassian's privacy policy.
ActivityTimeline for Jira helps users to create precise and clear plans for short and long-term goals, manage task loads, and view progress in real-time. This resource planning tool is highly customizable, making it easy to identify what each team member is working on and monitor the status of each task with the help of the calendar view with team & user timelines. The app is available in the Atlassian Marketplace and is compatible with Jira Work Management.
Calendar Planning for Jira with ActivityTimeline
The app offers a Planning Dashboard with a calendar view, where you can display issues within a different scope (days, or week scope) with the help of separate timelines for users and teams.
With the use of this app, you can gain a comprehensive view of who is doing what and when it will be done, it acts like a personal or team calendar :
All projects with tasks are displayed in the left penal, so users can easily track them and schedule tasks, set start and due date, and adjust tasks if needed:
Users of the dashboard can quickly and easily arrange tasks along a timeline by using a simple drag-and-drop feature. Alongside the timeline, users have the added benefit of workload indicators which provide a visual cue to help them understand whether they are underloaded (shown in yellow), overloaded (shown in red), or have a perfect workload (shown in green). Scheduling tasks is effortless as it automatically updates the workload indicators, and tasks can be easily resized to fit the user's schedule:
If the Manager needs to assign the same task to multiple users, this option is also available. Everything you need is just to choose the needed task on the timeline, and simultaneously click on the task and on the "Shift" button. After that schedule the issue part to another user and set estimates, that's it!
Jira doesn't provide events such as project placeholders, holidays, day-offs, and vacations, however, they can be incredibly beneficial for managing holidays and workloads. ActivityTimeline provides holiday management features:
Just choose the needed event and schedule it on the dashboard, it's visible along with the ongoing/future tasks, and workload indicators will be automatically updated, so you can understand resource availability clearly:
A noteworthy advantage is that users can record their hours worked right from the dashboard, leading to more efficient use of their time.
ActivityTimeline provides a Team Panel on top of the user timeline feature, giving teams the capability for high-level planning and visibility. It's a special team calendar that simplifies how resources are allocated and planned for, allowing users to set a longer-term scope in any given timeframe, be it months or quarters. The Team mode also offers a clear indication of workload across the teams and makes dealing with large-scale planning, be it for individual teams or the whole company, much easier: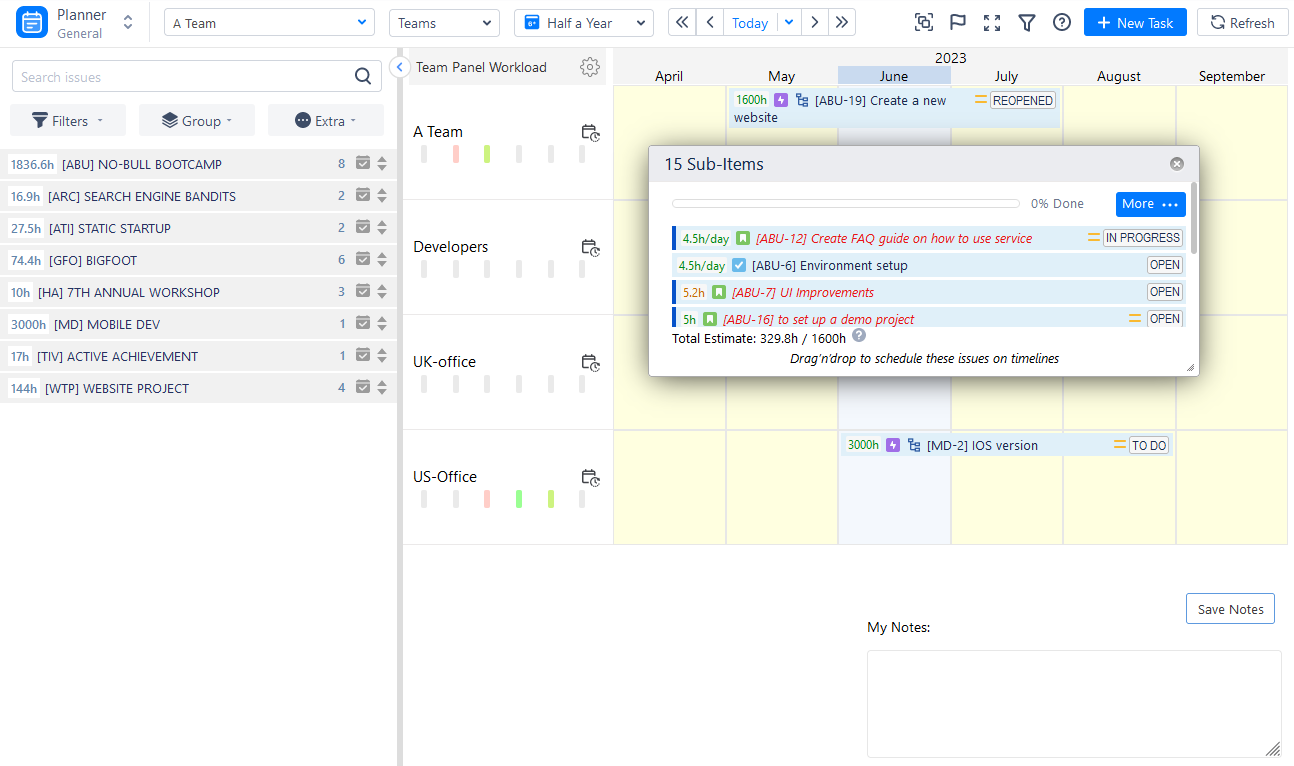 The Milestones feature ensures that users won't miss important events or deadlines:
The tool also is applicable to the use in conditions of remote collaboration, as it helps teams to stay on the same page even if they're located in different corners of the world.
Personal Calendar view for Jira
The plugin also offers a special individual workspace for each employee, which always receives great user feedback. Here users can check personal schedules with their own tasks and projects. Individuals can use a Personal Planning Timeline to create and manage their own issues, set deadlines, monitor their progress, and prioritize their tasks.
This system of organizing workloads increases productivity and helps one stay on top of their responsibilities. ActivityTimeline has added a special Personal workspace for each employee to provide a comprehensive view of what needs to be done. Furthermore, it allows for the visualization of a workload or availability for a certain time frame and the possibility to log worked hours (billable and non-billable) directly from your personal workspace.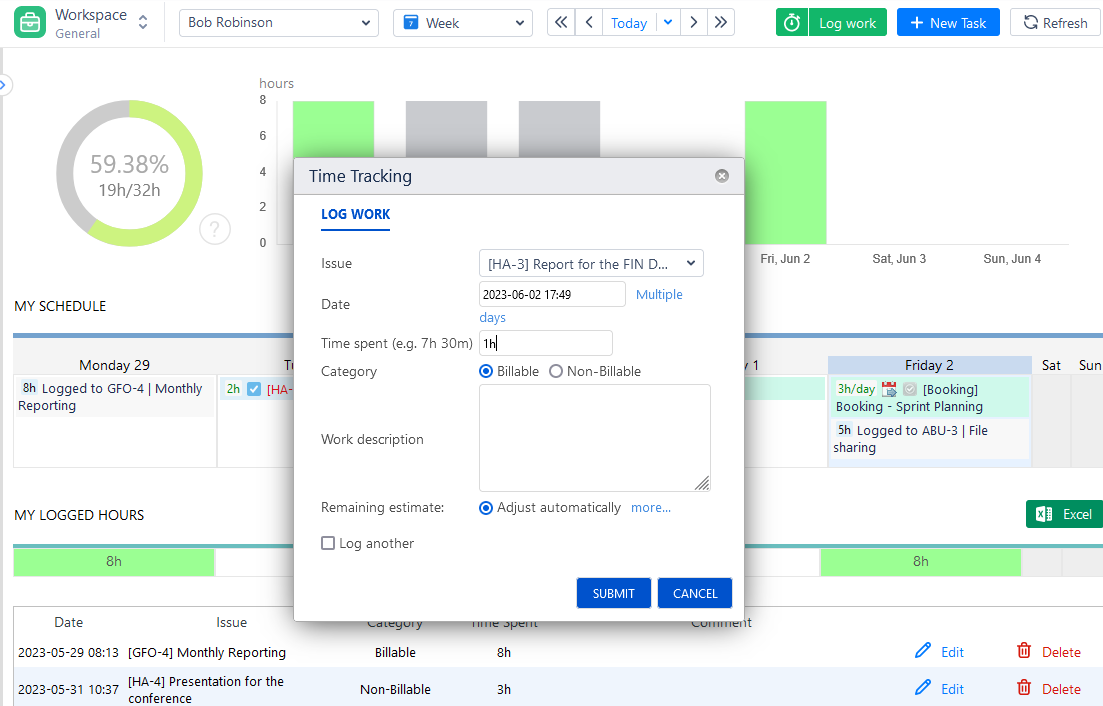 ActivityTimeline takes into account internal tasks, such as meetings or trips. All of these activities can be logged on the timeline to accurately reflect their working hours.
ActivityTimeline Reports
Users can also find a supplementary reporting view, that helps to gather data from the app. There are various reports, that are very customizable and can be generated in a few clicks!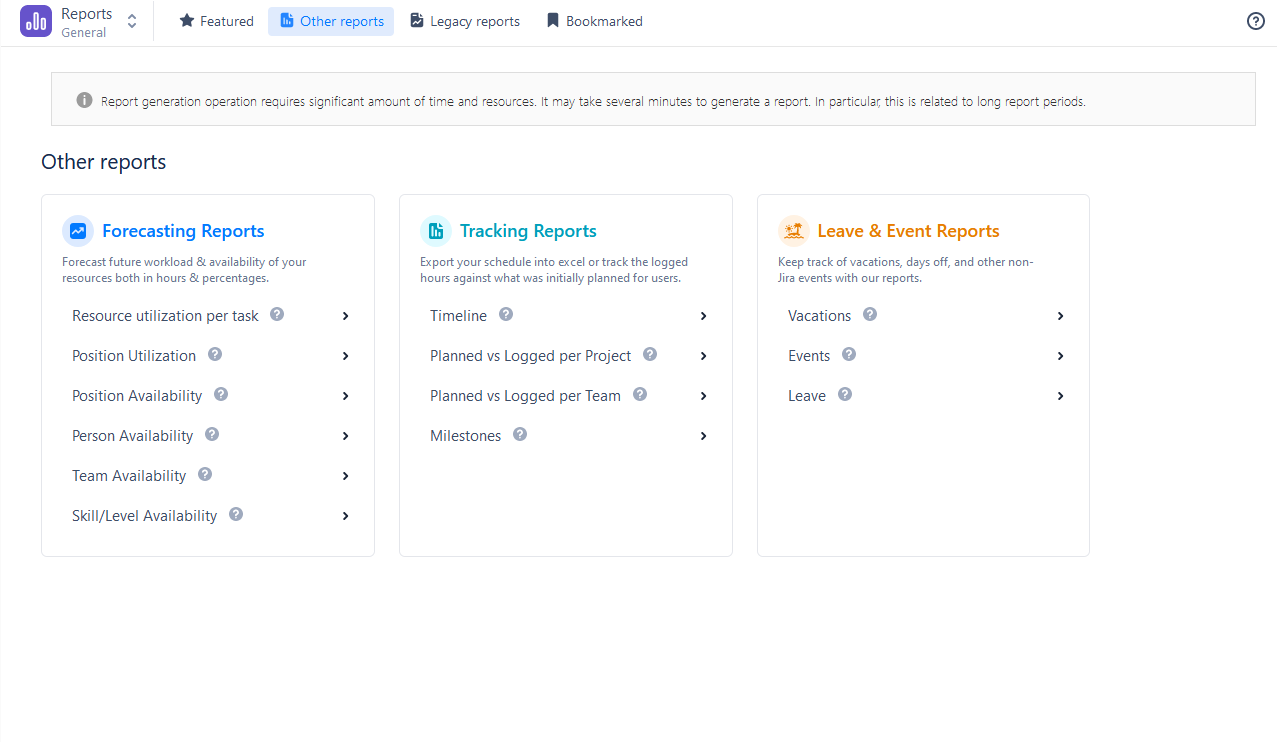 For example, you may try a Resource Utilization report to understand the resource workload and update tasks in the calendar immediately to avoid under or overload: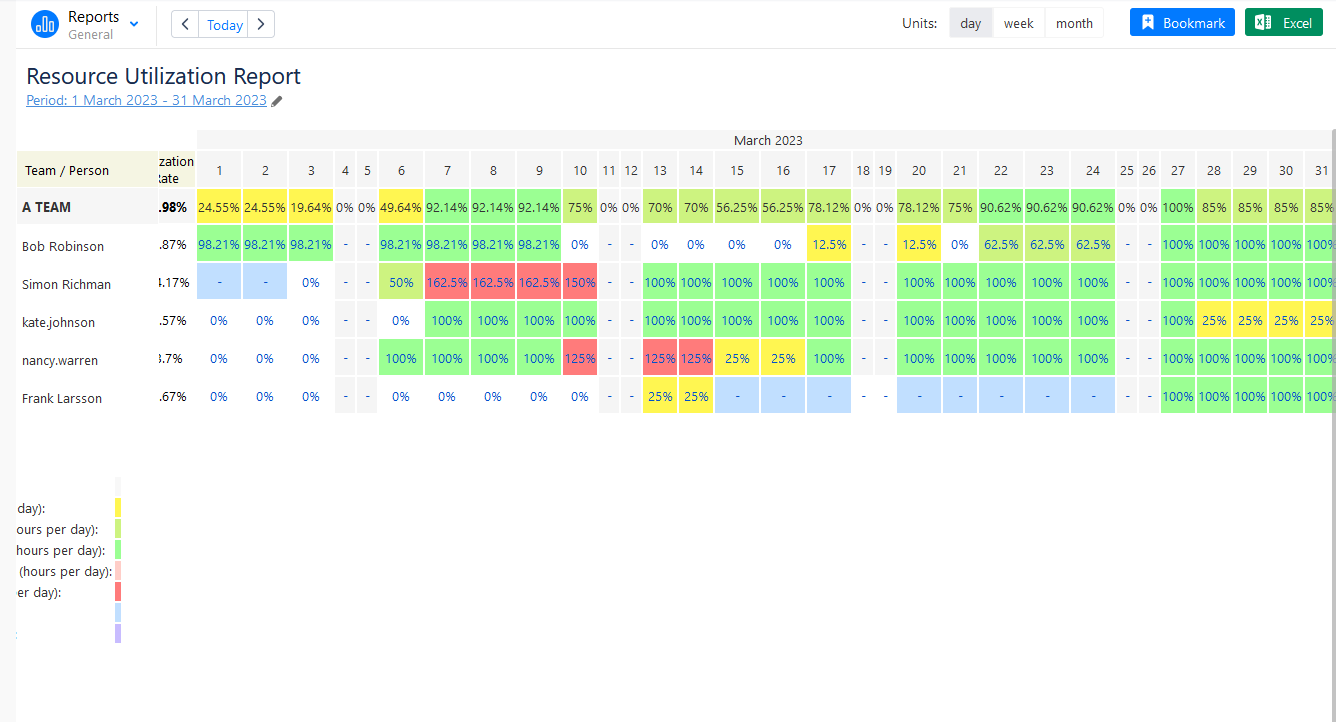 Conclusion
Creating a calendar view for teams is a great way to keep a timeline and track progress for the projects that your teams work on. Utilizing an easy-to-use calendar can help to ensure the project is completed on time and with maximum efficiency. Whether you opt to use the available calendar views on Jira or Jira add-ons, it is an essential step to ensure a successful workflow.
FAQs
How to add a calendar in Jira?
To add a calendar, open the Administration drop-down menu from the Jira home page, then select Add-ons. From there, you can search for a plugin that can be used to add a calendar in Jira. Once the calendar plugin has been installed, it can be accessed from the Administration page.
How to add a calendar from Jira to Outlook?
In order to do this you need to install one of the Jira add-ons like ActivityTimeline, that integrates with Outlook Calendar.
How to make Jira Google calendar integration?
In order to do this you need to install one of the Jira add-ons like ActivityTimeline, that integrates with Google Calendar.