Project management is an important part of any business. It involves the organization, scheduling, and implementation of projects throughout the company, from small daily tasks to major long-term projects. Project creation and management is an ever-evolving field of work, and the need for effective tools that can help streamline, simplify, and organize the process is more important than ever. This article will discuss how to use Jira for project management, create projects and tasks, assign resources, and track progress, as Jira Software is a powerful and popular project management software that can help businesses manage their projects more efficiently and effectively.
What is Jira and Why is it Useful for Project Management?
Jira is a versatile project management tool that helps teams plan, track, and manage their work. Originally developed for software development teams that stick to agile project management methodology. Jira has since become popular among teams in various industries, from marketing and consultancy to finance. Here are some of the key benefits of using Jira for project management:
Customizable workflows: Jira allows you to customize your workflows to match your team's unique needs and processes. You can define the stages of your project, assign tasks to team members, and track progress in real-time.
Team Collaboration: Jira makes it easy to collaborate with your team members and stakeholders. You can leave comments on tasks, mention other team members, and share files and attachments.
Reporting: Jira provides powerful reporting features that allow you to track progress, identify bottlenecks, and generate custom reports for your team and stakeholders.
Getting Started with Jira
Before you can start using Jira for project management, you need to set up your projects and configure your Jira workflows. Here are the basic steps to get started:
Create a project
Managing projects with Jira is a breeze. The first step is to create a new project. In Jira, each project has its own space, and you'll be able to create tasks, assign tasks to users, and track tasks in progress all within one space. You can also add comments, attachments, and labels to tasks for easy organization.
Jira Software offers numerous project templates for agile and non-technical teams. Once you've selected a template, you can customize it to fit your team's needs.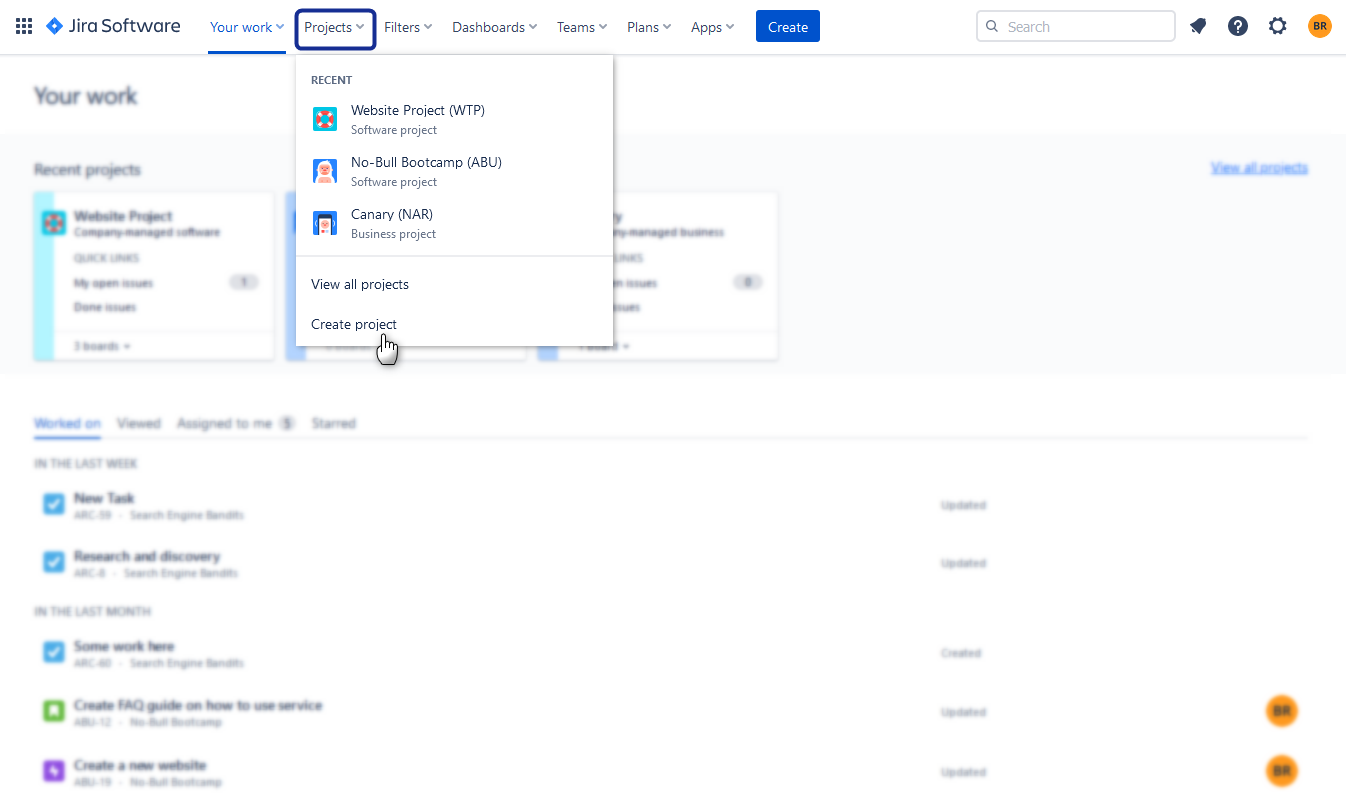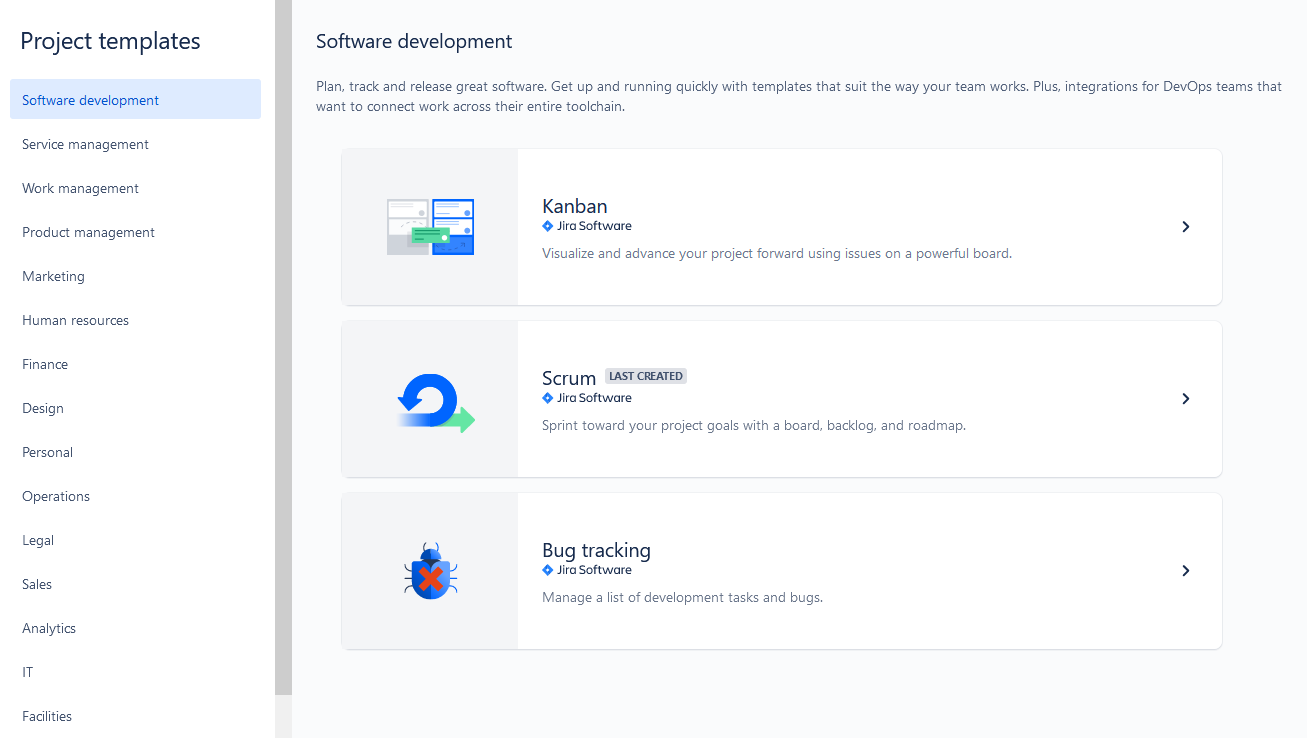 When creating a project, you'll be asked to provide a project name and key.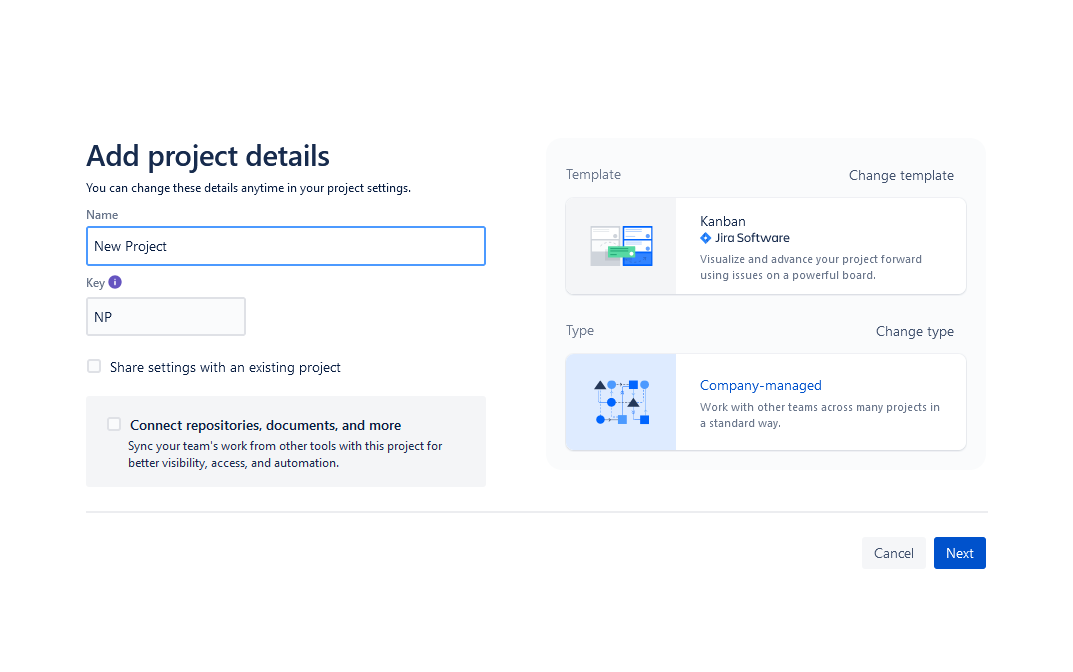 Once your project is created, you'll be taken to the project dashboard, where you can begin adding tasks, assigning users, and tracking progress. Users can create and work on multiple projects. Every project manager will find the project management process with Jira effortless.
Add your team members and create teams
After creating your project, the next step is to add team members. You can add team members manually by adding their emails or importing them from other tools like Google Workspace, Microsoft Teams, and Slack.
Create tasks
Once you've set up your project you can start adding project tasks and issues. To add a task, click "Create Issue" and choose the task type that best matches your needs, Jira provides a variety of issue types such as Task, Story, Epic, Sub-task, and Bug.
When adding tasks, you can add labels, assign users, and set due dates. You can also add comments and attachments to tasks for easy collaboration. When adding project tasks, it's important to be specific and provide clear instructions. This will make it easier for users to understand the task, which will make it easier to track progress.
To create an issue in Jira, follow these steps:
Click on the "Create" button on the top navigation bar.
Select the issue type.
Fill out the issue details such as summary, description, and priority.
Assign the issue to a team member.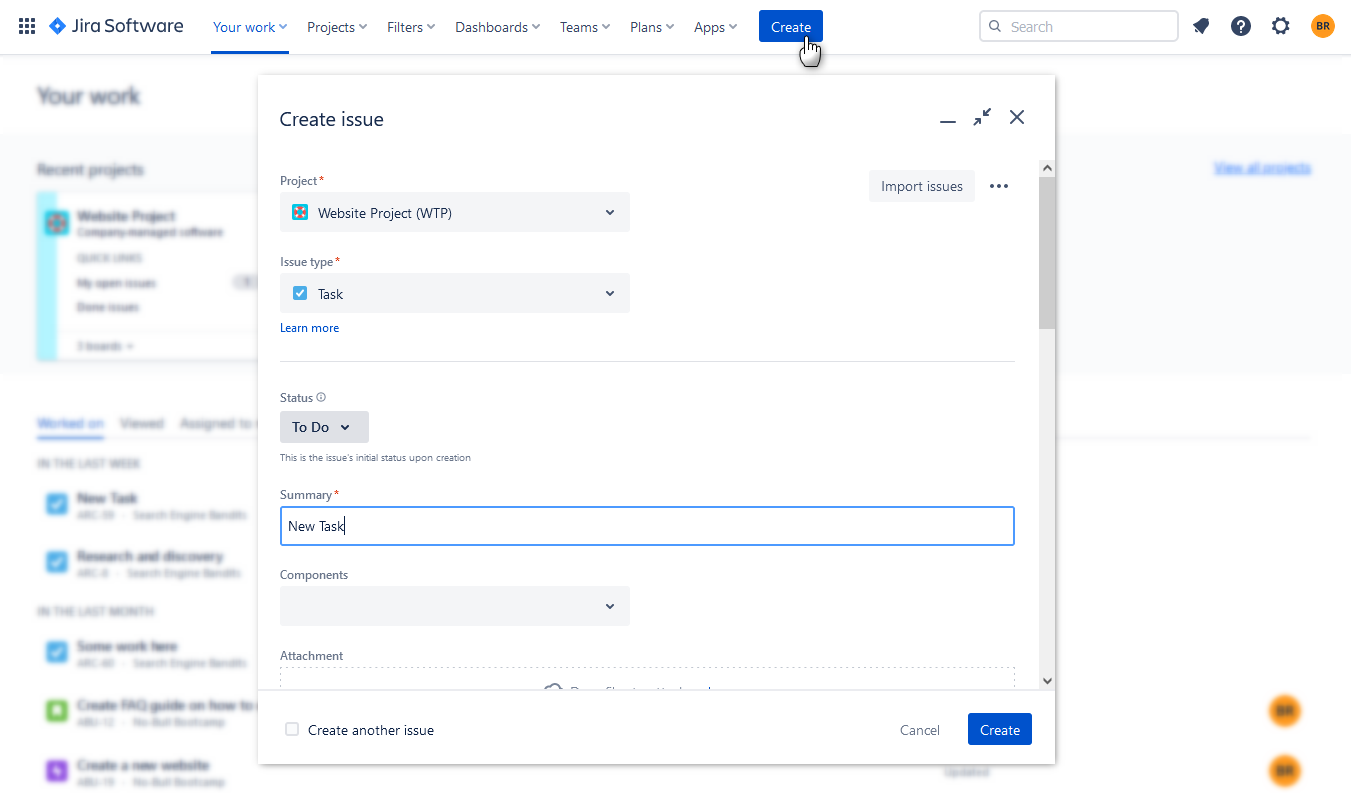 Organize issues
Jira Software provides several features to help you with task management. You can use boards, backlogs, and filters to view and prioritize issues.
Boards for agile project management
Jira as an advanced project management software provides great functionality for those teams who work within an agile project management methodology. Users may find useful boards that provide an overview of tasks, and allow you to quickly view progress, assign tasks, and monitor project progress and workflow stages. You can also add comments and labels to tasks for easy organization. Agile boards are great for teams that practice agile project management, as it allows them to quickly view progress and adjust tasks accordingly. A board is a view that displays issues in columns based on their status.
Scrum Boards
A project manager can choose a Scrum board for the software development team and organize a sprint backlog that needs to be worked on. Jira provides a backlog view that allows you to prioritize and rank issues.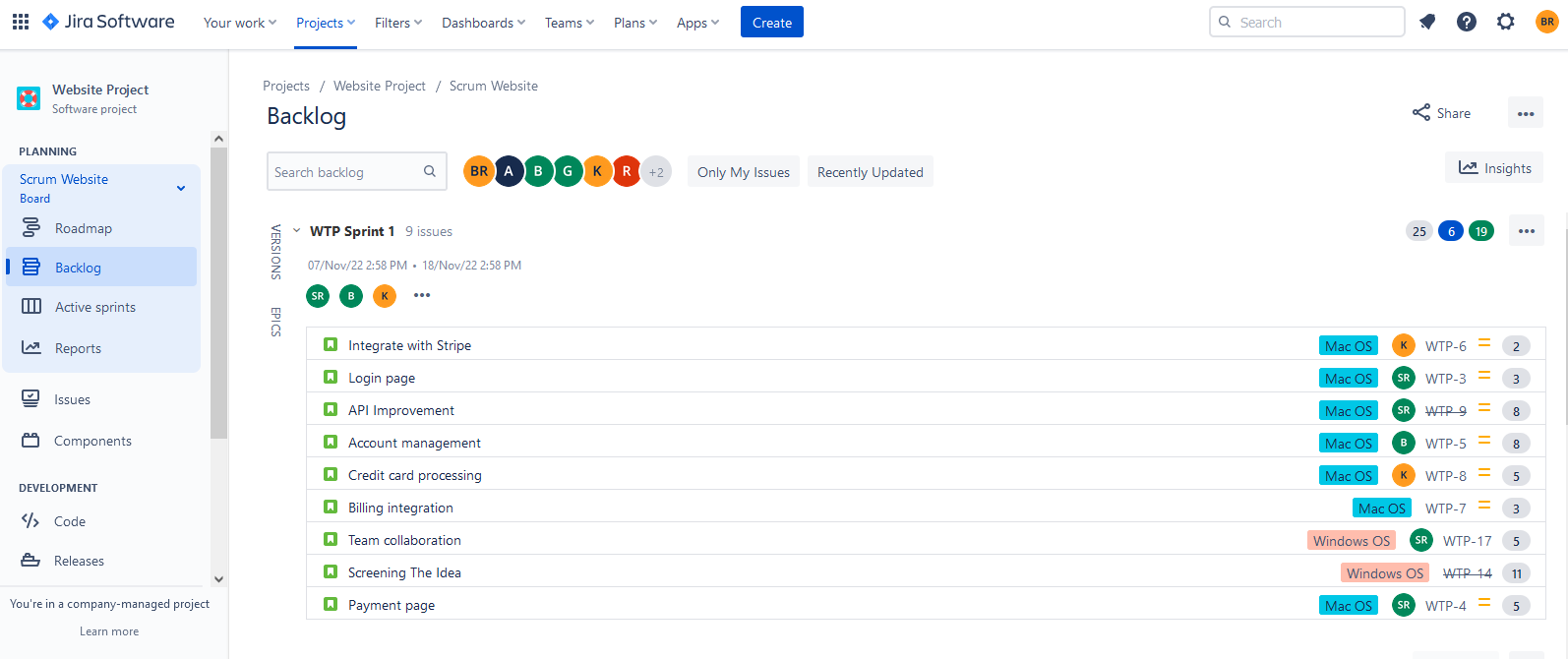 Kanban Boards
Another option is a Kanban board that is popular among non-technical and software developers teams.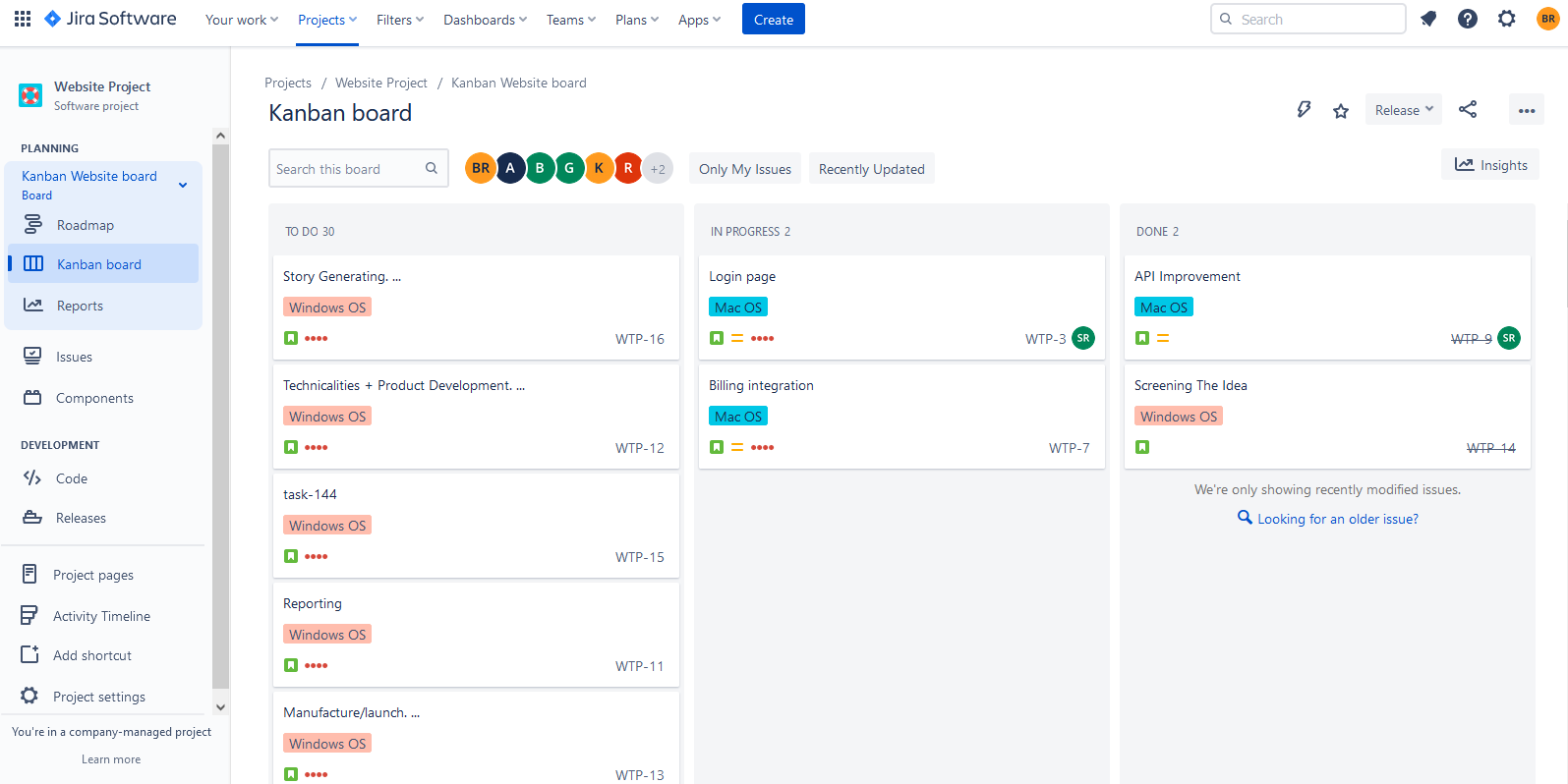 Scrum and Kanban boards can be customized to fit your team's workflow.
Jira Software also offers the ability to customize your project's notifications, permissions, and roles to fit your team's needs.
Tracking Progress and Reporting in Jira
One of the key benefits of using Jira for project management is its ability to track progress and generate reports. Jira provides several built-in reports that help you track your project's progress and identify potential issues. These reports include:
Burndown charts: Burndown charts show the remaining work in your project and help you track progress against your project's timeline.
Velocity charts: Velocity charts show how much work your team has completed over time and help you estimate how much work your team can complete in future sprints.
Cumulative flow diagrams: Cumulative flow diagrams show the status of your project's issues over time and help you identify bottlenecks and areas for improvement.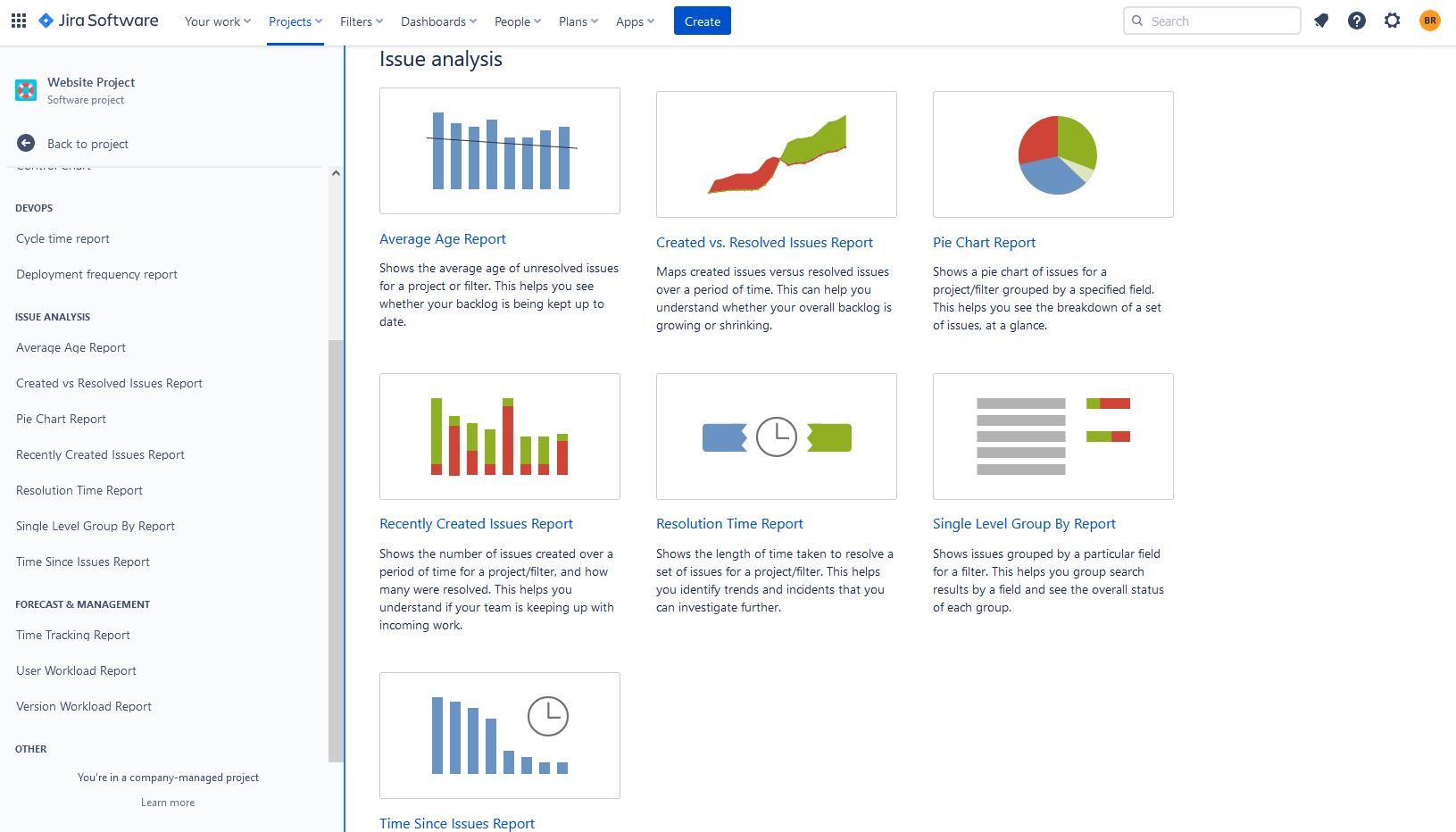 Jira also offers the ability to create custom reports using JQL (Jira Query Language). With JQL, you can create custom filters and queries to track specific issues, assign
Resource Management Tips for Project Managers
Resource management in Jira is an important part of project management. It is essential for a project manager to ensure that the right resources are allocated to the right tasks, and that all resources are tracked accurately. Here are some tips to help project managers manage resources in Jira:
1. Establish clear roles and responsibilities: before beginning any project, it is essential to establish clear roles and responsibilities for each team member. This will help ensure that the right resources are assigned to the right tasks.
2. Monitor and track resources: project managers need to monitor and track resource usage throughout the project in order to avoid work over, or underload, stick to deadlines and ensure smooth project completion.
3. Set Milestones: setting milestones will help ensure that the project is completed on schedule.
4. Review resource allocation: regularly reviewing resource allocation is essential for ensuring that resources are being used effectively.
5. Use Time Tracking & Reporting: track the logged work with the help of timesheets and reports.
By the way, Jira provides a variety of resource planning add-ons that are fully integrated with Jira and help to make your project management advanced. These tools can help project managers review resource utilization and make adjustments as needed.
Manage Projects and Plan your Resources with Activity Timeline for Jira
As an example of Jira resource and project management tools and add-ons we can provide an Activity Timeline tool. It provides a resource planning dashboard that offers a bird's eye view of your resource activities with just a few clicks. With its cross-project view for shared resources, advanced timesheets, and various resource reports, resource management can be much easier. This dashboard gives project managers valuable data on who is doing what and when it will be done.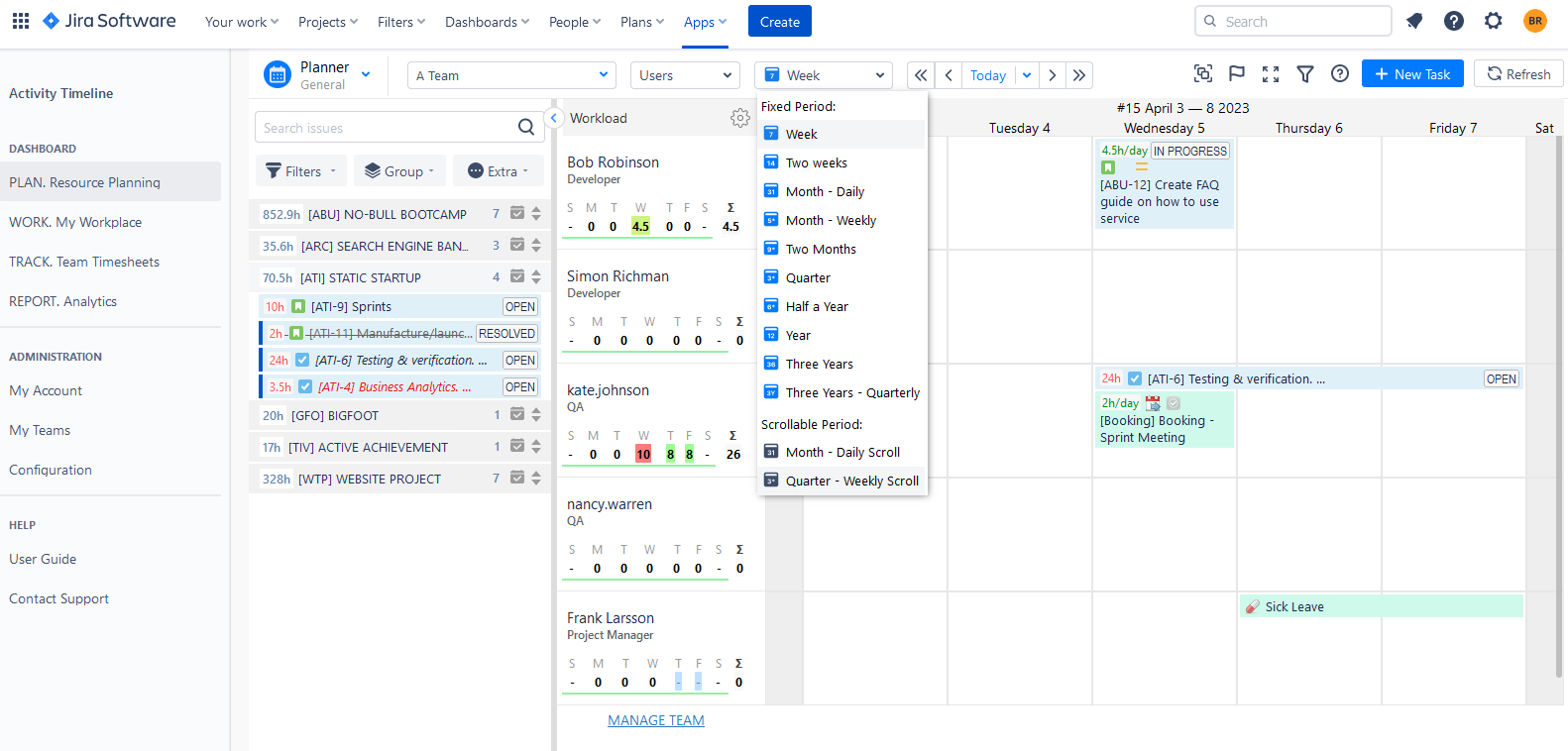 Activity Timeline provides seamless Jira integration, which means that all data is fully synchronized with Jira. You can observe multiple projects, users, and team timelines with tasks in a single place. You can assign existing Jira users with tasks or create new ones directly from the dashboard.
Activity Timeline offers a wide range of advanced features that can help you manage your resources more efficiently. Here are some of the key features:
Holiday Management: With custom events, leave management becomes more manageable. You can manage holidays, track vacations, and sick leaves.
Skills and Positions Management: You can identify skills gaps and allocate resources to the right tasks quickly. When a project requires a specific skill set, you can quickly identify which resources have the necessary skills and assign tasks accordingly.
Workload and Availability Management: The Activity Timeline provides special workload indicators that help to identify the user workload/availability. This visualization can be used to identify areas where resources are over-allocated or underutilized and make adjustments accordingly.
Personal Workspace: A personalized workspace is accessible to each team member through the app. They can view their tasks and projects, log time, stay updated with deadlines, and request vacations and sick days. The personal cabinet helps users better manage their workload, avoiding overstraining.
Efficient Time Tracking with Timesheets
Activity Timeline offers Timesheet tracking, and all the available data and logged time can be used for the creation of advanced team timesheets built like a constructor for user convenience. All timesheet reports can be exported like an Excel file.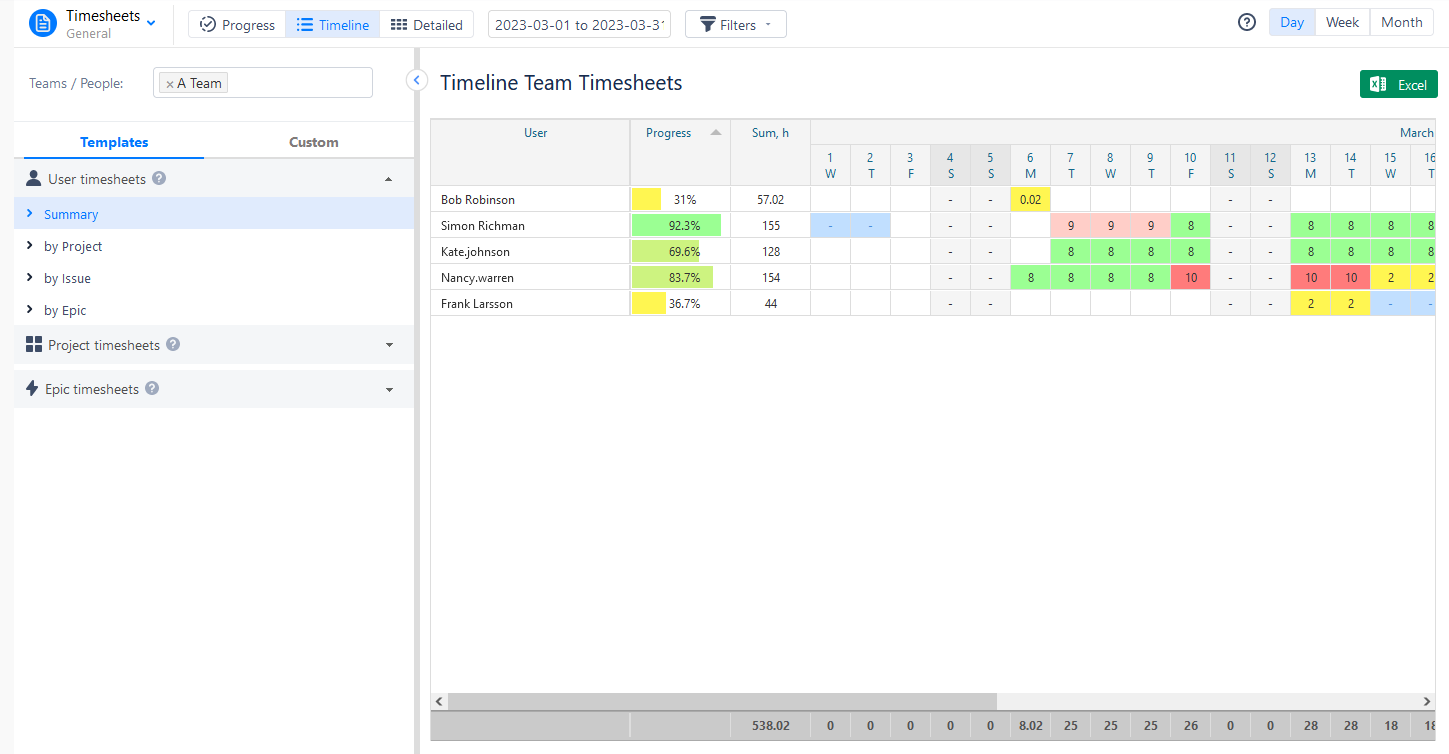 Powerful Reports
Activity Timeline provides a powerful reporting system that allows users to generate detailed reports on team performance, resource utilization, project progress, and task completion. This data can be used to identify areas where resources are being over or underutilized or overutilized and make adjustments accordingly. All reports can be exported as an Excel file.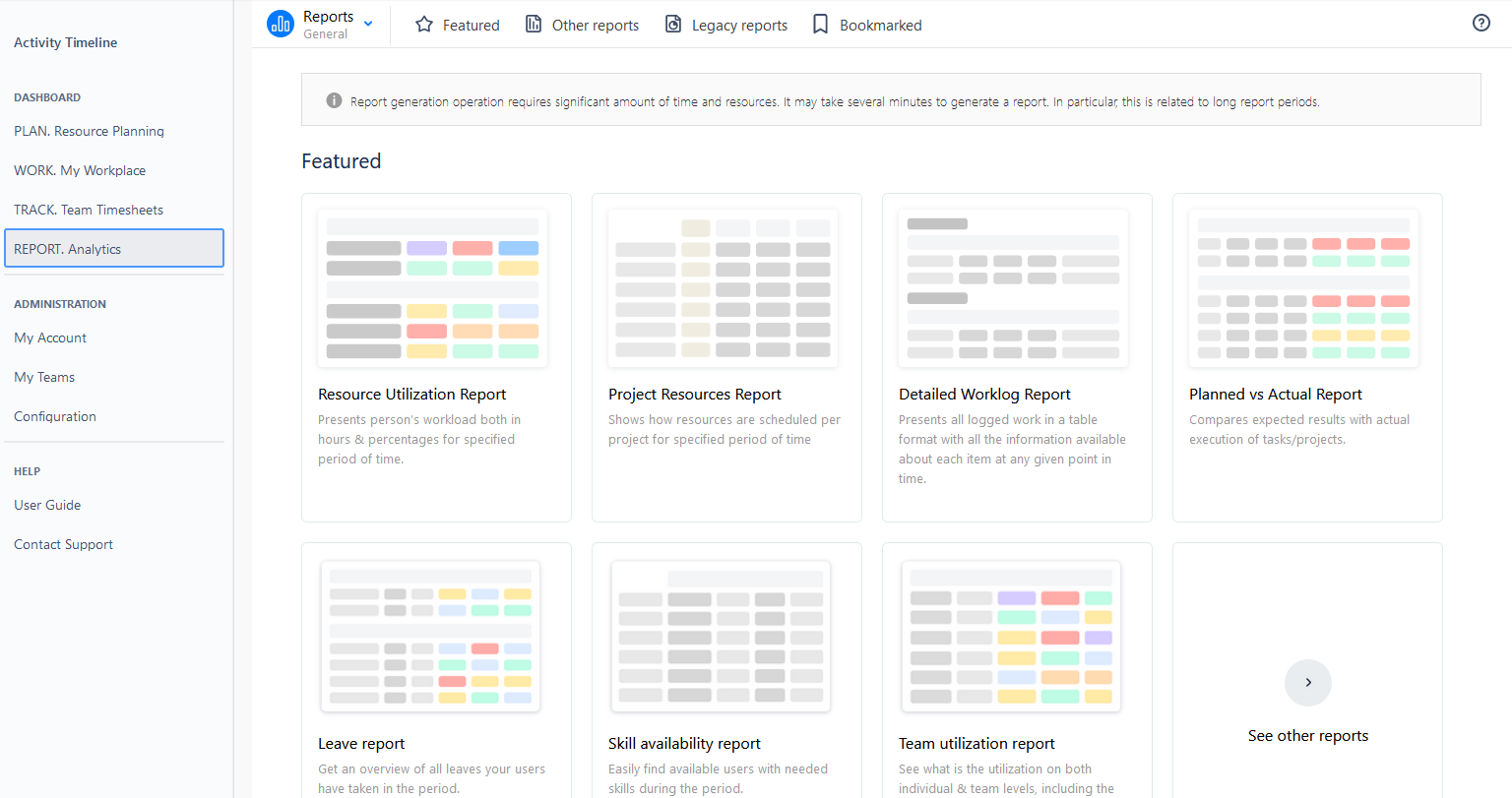 Conclusion
In conclusion, the Jira project management tool is a great helper while dealing with projects as it is suitable for business and software teams. Jira offers a range of features to help teams manage their projects efficiently. From creating projects to tracking progress and generating reports, it has everything you need to manage your projects successfully.
FAQs
What are the benefits of using Jira?
Jira provides an easy and efficient way to manage projects, track progress, and report on issues. It also helps teams stay organized and collaborate more effectively.
Can I create a project plan in Jira?
Yes, creating a project plan in Jira is possible. Jira provides a suite of project planning tools that allow users to set objectives, assign tasks, track progress, and collaborate with team members. With Jira, you can create a comprehensive project plan that outlines timelines, milestones, and task dependencies.
How to Use Jira to achieve maximum efficiency
Utilize Jira's agile project management capabilities to streamline project workflow and maximize efficiency. By setting realistic deadlines and milestones, creating sprints, and tracking progress, teams can ensure that tasks are completed on time and that projects stay on track.