Jira is a potent project management and resource planning tool, but if it isn't used correctly, it can become an inefficient and time-consuming process. Streamlining your Jira resource management process can help to ensure that your teams are getting the most out of their workflows and that your projects are running as smoothly as possible.
In this article, we will explore four strategies for streamlining your resource management process.
The Benefits of Jira Resource Management
Jira is a powerful and intuitive platform used by teams of all sizes to plan, collaborate, and track their progress. It provides an organized view of all the tasks, resources, and projects in a company. It is a highly customizable software that helps teams work faster, smarter, and better.
Jira is used for project management, resource planning, and management. It enables teams to collaborate, plan, and track their work. With Jira, teams can also create and manage reports, assign tasks to individuals, and prioritize tasks.
The Benefits of Jira resource management are many:
First, it helps teams better manage their resources by providing an organized view of all the resources, tasks, and projects in the company. It provides teams with the ability to track the progress of their resources and tasks, allowing them to make better decisions about how to allocate their resources.
In addition, it helps teams identify and manage risks associated with their projects and organize and prioritize tasks, leading to effective project management.
Helps project managers to manage resources efficiently: track project resources, and monitor resource availability/resource allocation, to prevent employee burnout or work underload.
Furthermore, Jira provides teams with the ability to collaborate better, as well as the ability to create and manage reports.
Finally, Jira helps teams to save time and money by streamlining the process of resource management and task assignment.
What is Resource Management and Why is it Important?
Management of resources is an important component of any successful business, as it allows an organization to maximize the use of its resources in order to achieve desired goals.
Resource management is the process of identifying, tracking, and monitoring the utilization of resources (both human and material resources). By doing so, organizations can ensure that resources are used efficiently and effectively, with minimal waste.
This process is essential for ensuring an organization's long-term success, as it enables the organization to maximize the return on its investments.
This process involves the identification, allocation, and utilization of resources to achieve a desired outcome. By effectively managing resources, an organization can maximize its efficiency and productivity, while minimizing its costs.
That's why companies need professional project managers who know how to use facilitating tools, such as project management tools, resource management software and resource planning apps, in order to track project resources and get the desired goals. So, if you are a project manager who wants to manage resources effortlessly and efficiently, you need to know some tips that will ease your planning.
How to Streamline Resource Planning & Management Process in Jira?
Streamlining your Jira resource management process is essential for any organization that wants to maximize the efficiency of its resource planning. With Jira, an effective resource management system can be implemented to ensure that the right resources are available at the right times and are allocated to the right tasks.
Here are some useful tips:
Establish Clear Goals and Objectives

The first step in streamlining your Jira resource management process is to establish clear goals and objectives. This will help ensure that the resources are allocated to the right tasks and everyone is working towards the same objectives.

Develop an Effective Resource Planning System

An effective resource planning system should be established to ensure that the right resources are available for the right tasks. This should include a process for tracking resource availability and allocation.

Monitor and Optimize Resource Utilization

By monitoring resource utilization, organizations can identify areas of inefficiency and make adjustments to optimize resource utilization.

Automate Resource Management Processes:

Utilizing automation tools can help to streamline resource management processes. Automation tools can help organizations track resource availability, allocation, and utilization more efficiently.

Implement Effective Resource Tracking and Reporting

Implementing an effective resource tracking and reporting system can help organizations to identify areas of inefficiency and make adjustments accordingly.
Jira is essentially helpful for organization collaboration and, moreover, users are welcome to improve their work & operations with the help of the useful third-party add-ons for Jira available at the Atlassian Marketplace, where you can find numerous tools for various needs:
These tools will help you to make advanced and stay on the same page with your team members in real-time. Among many popular resource planning tools for Jira is Activity Timeline.
Resource Management & Tracking with Activity Timeline
Activity Timeline is a resource planning tool that allows to track & manage resources effectively, manage projects and teams without effort and get a comprehensive view of the ongoing activities of an organization's resources.
The app gives valuable for project managers data, as they can see who is doing what and when it will be done.
Gain a bird's eye view of your resource activities with just a few clicks. A resource planning dashboard with a cross-project view for shared resources, plus advanced timesheets and various resource reports, can make resource management easier.
The tool provides a seamless Jira integration, all data is fully synchronized with Jira. Observe multiple projects, users' and team timelines with tasks in a single place. Assign existing Jira tasks, or create new ones directly from the dashboard in the app's "Plan" view: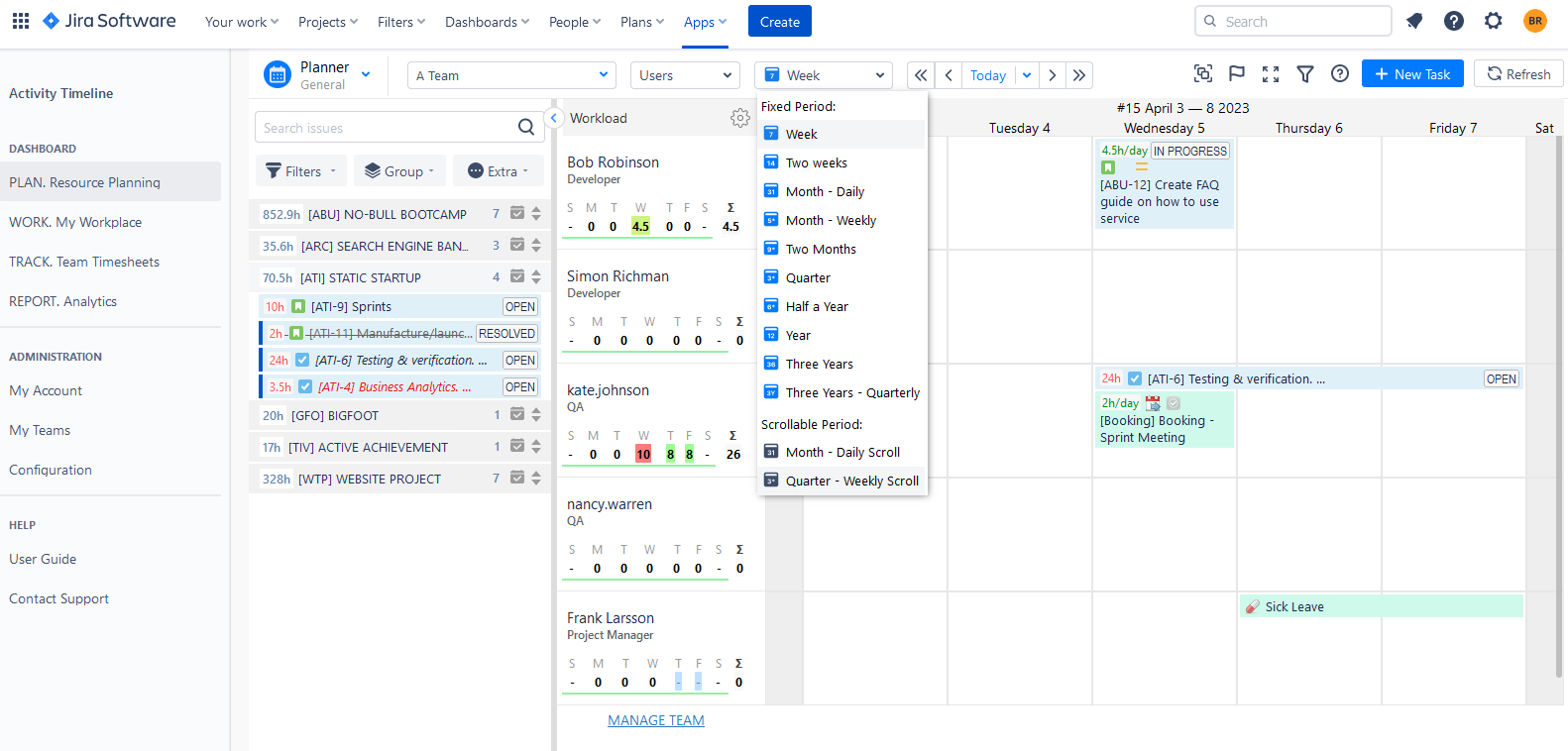 Activity Timeline is the ideal solution for your needs, from scheduling tasks to tracking time and monitoring processes. Save time and effort with meaningful task prioritization and project tracking.
Leave management is also made simpler with custom events. Manage holidays, track vacations and sick leaves: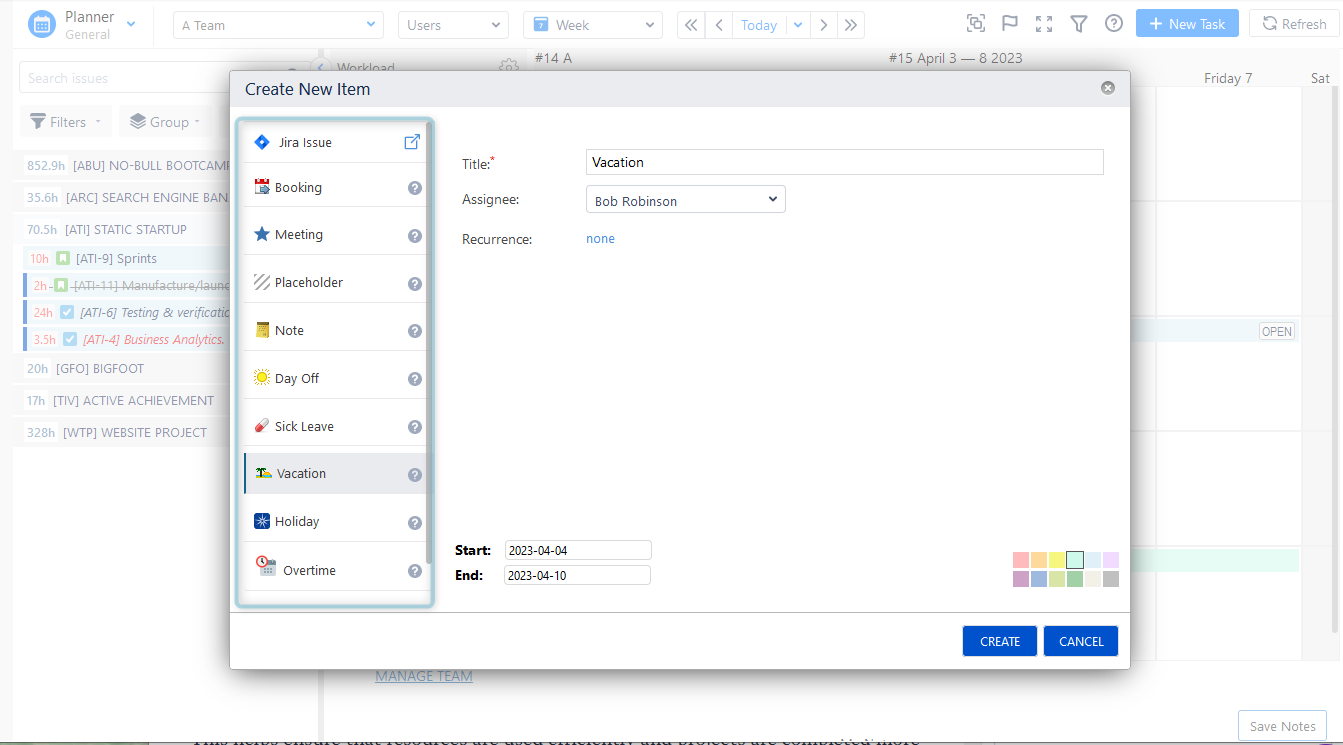 The ability to identify skills gaps and allocate resources to the right tasks is another benefit of Resource Management. When a project requires a specific skill set, users can quickly identify which resources have the necessary skills and assign tasks accordingly. This helps ensure that resources are used efficiently and projects are completed more quickly: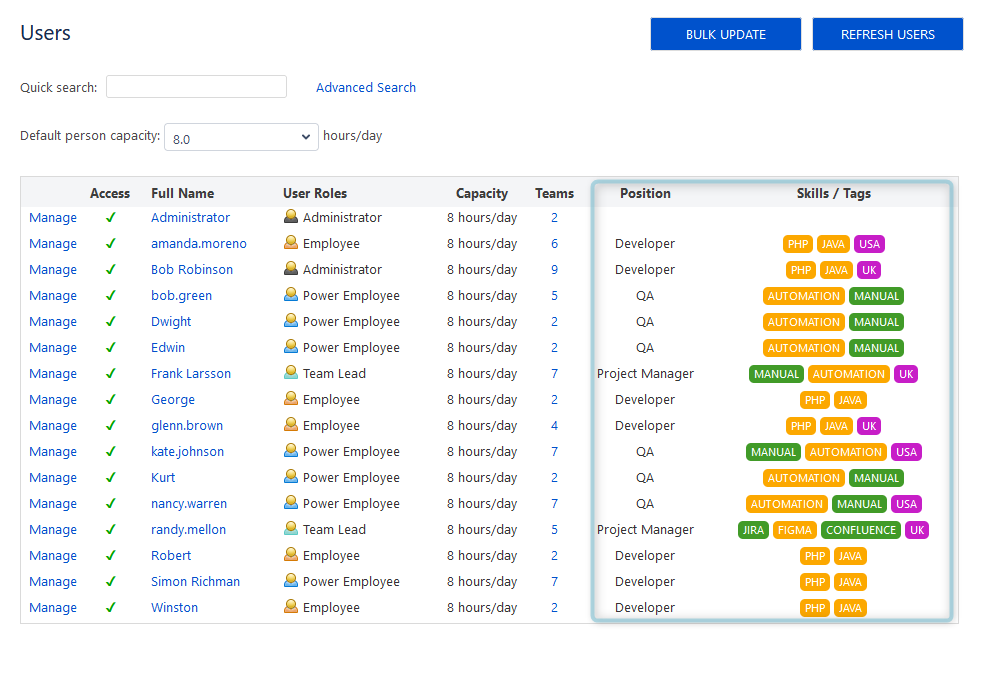 Moreover, the app provides an opportunity to manage both human and non-human resources. Users can create custom resources inside the app and manage them accordingly:
Workload & Availability Management
Activity Timeline provides special workload indicators that help to identify the user workload/availability. Create custom workload schemes for your users, and assign tasks.
This visualization can is used to identify areas where resources are over-allocated or underutilized and make adjustments accordingly. This data can also be used to make more informed decisions about allocation and help managers plan better for future projects.
It also provides several timeline views in detailed or general levels. For example, you can choose and assign tasks not only to separate users but also to whole teams (such types of work as epics, and new program increments), set estimates and deadlines, and track progress. Workload and availability indicators are also available: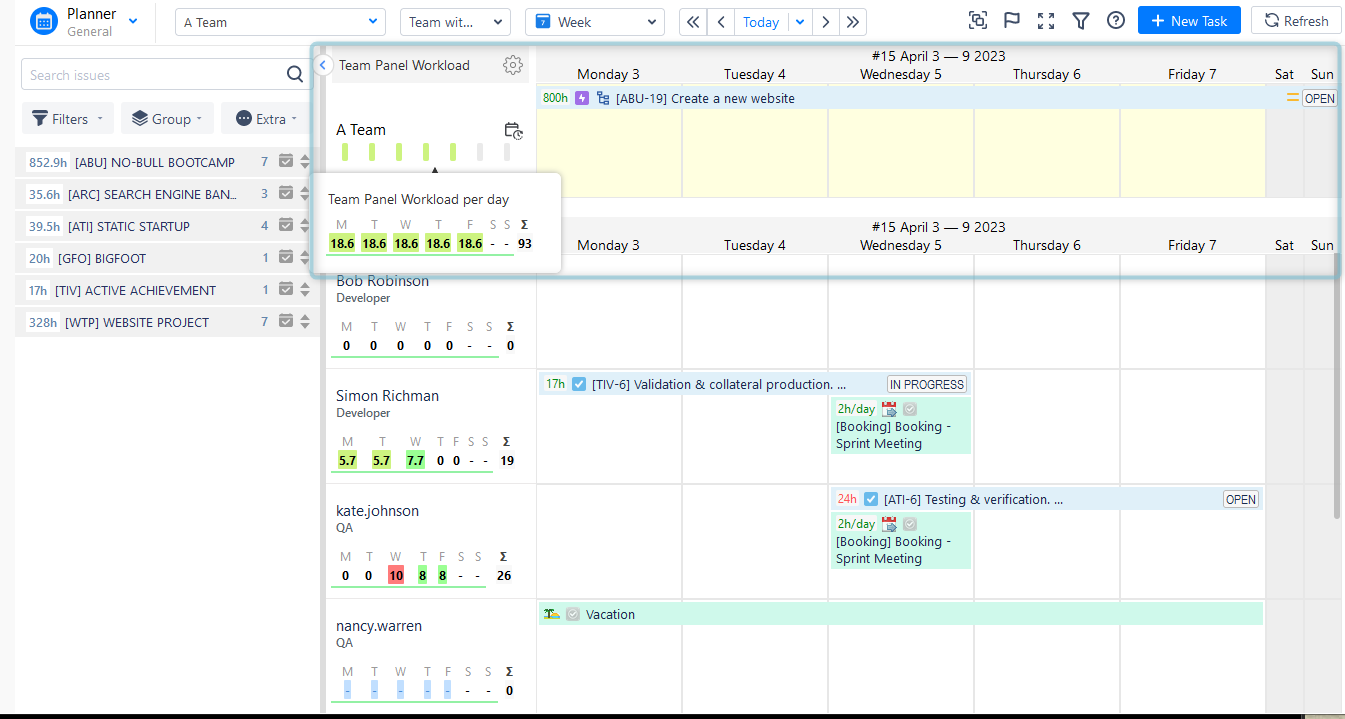 View the availability of resources, assign tasks to the most efficient and available resources, and track progress. This helps ensure that resources are used efficiently and projects are completed on time.
Personal Workspace
A personalized workspace is accessible to each team member through the app, providing project managers and employees with a variety of resources.
They can view their tasks and projects, log time, stay updated with deadlines, and request vacations and sick days. The personal cabinet helps users to better manage their workload, avoiding overstraining.
Often employees don't like to log time, as some companies use uncomfortable Excel sheets or other ways to track work. It's can be very time-consuming and distract people from the actual work that should be done. With the help of the personal cabinet users can log work in a few clicks and use a special Timer for more accurate time tracking:
Track Time with Timesheets
Of course, great resource management tools offer Timesheet tracking, and Activity Timeline is no exception. All the available data and logged time can be used for the creation of the advanced team timesheets built like a constructor for user convenience. Choose the data needed and generate tracking reports:
Timeline Team Timesheets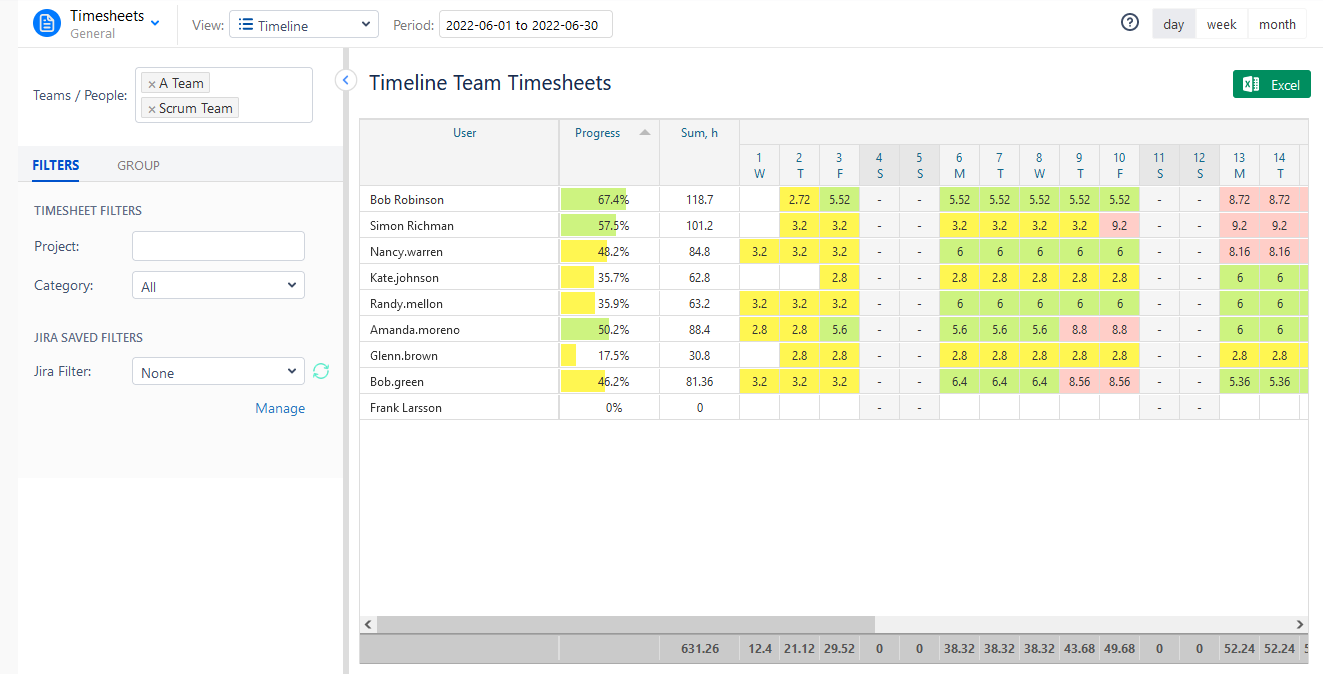 Progress Team Timesheets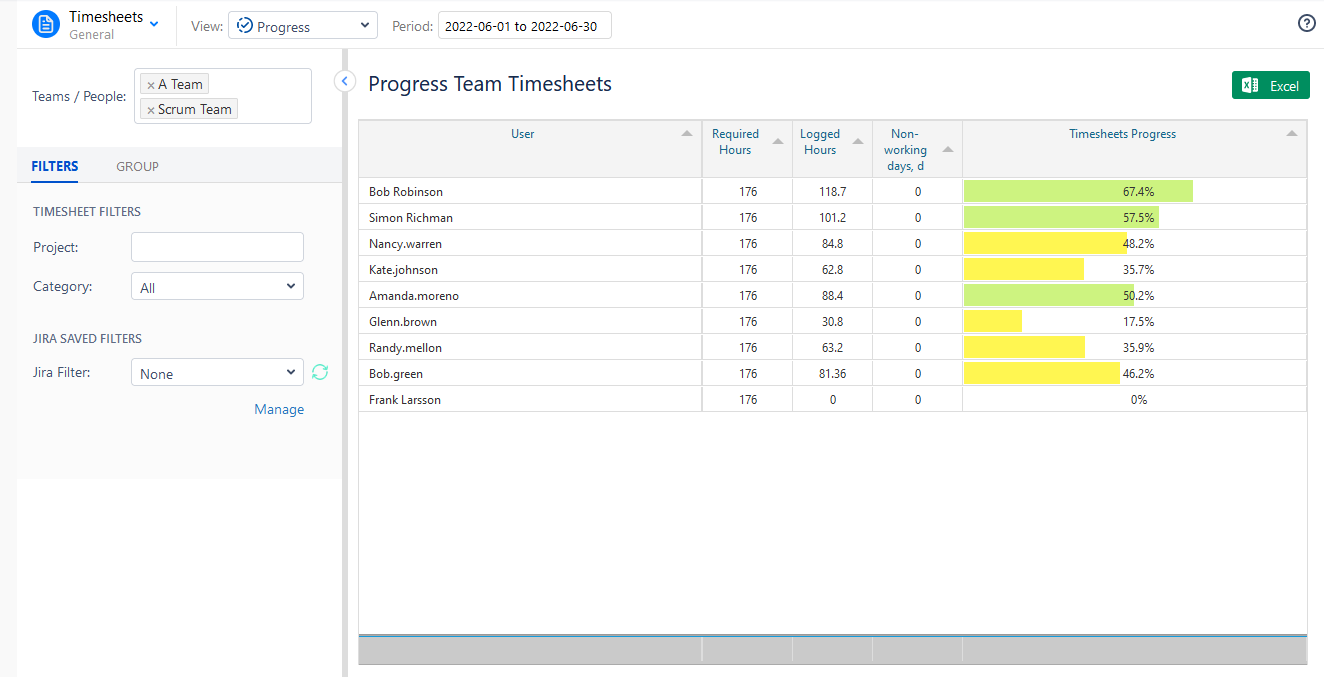 All timesheet reports can be exported like an Excel file.
Advanced Reporting
Activity Timeline also provides a powerful reporting system. This system allows users to generate detailed reports on resource utilization, project progress, and task completion. This data can be used to identify areas where resources are being over or underutilized or overutilized and make adjustments accordingly.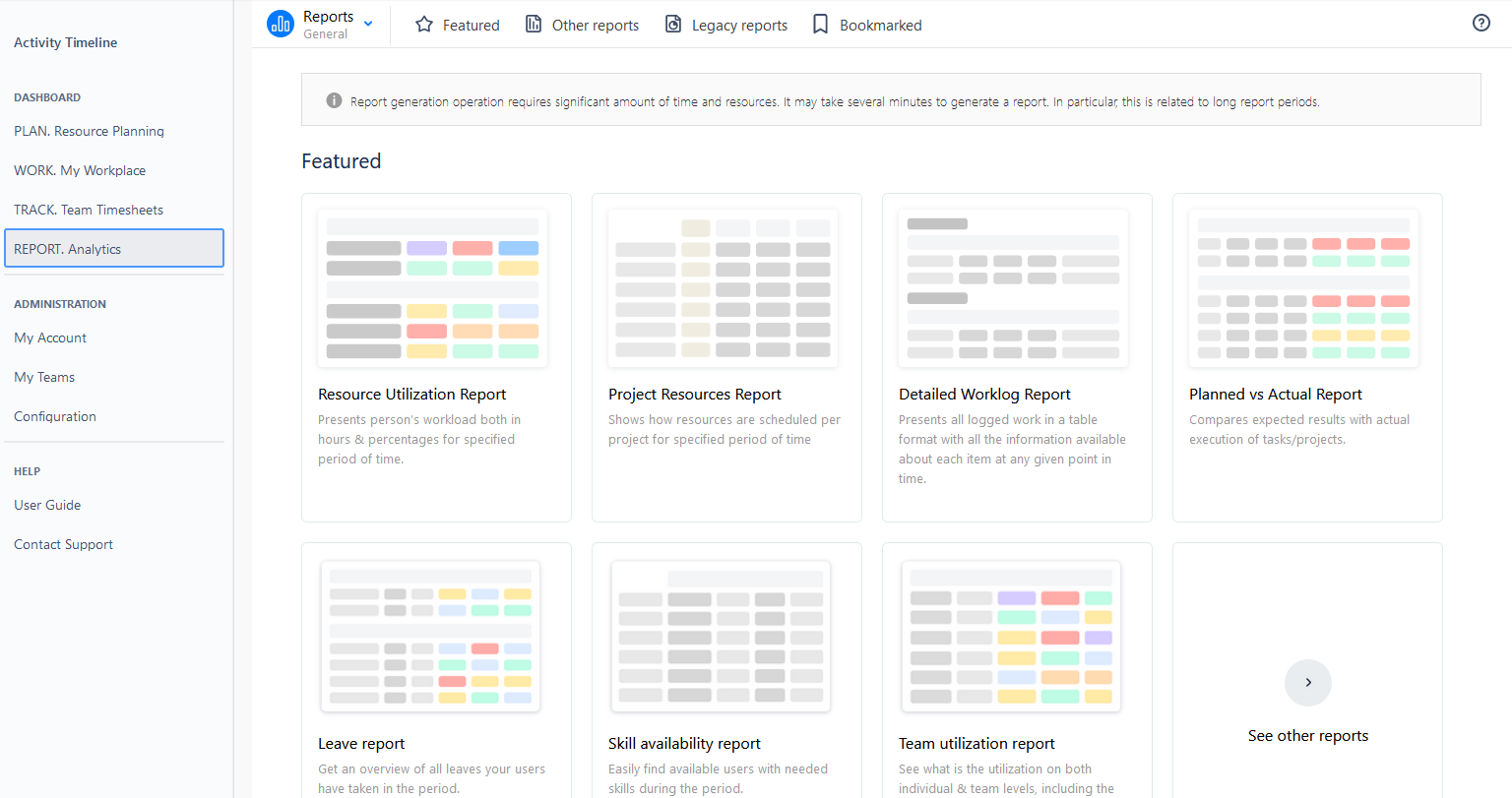 Resource Utilization Report
This report is one of the most popular ones, as it shows to which extent resources are used and helps to prevent work under, or overload: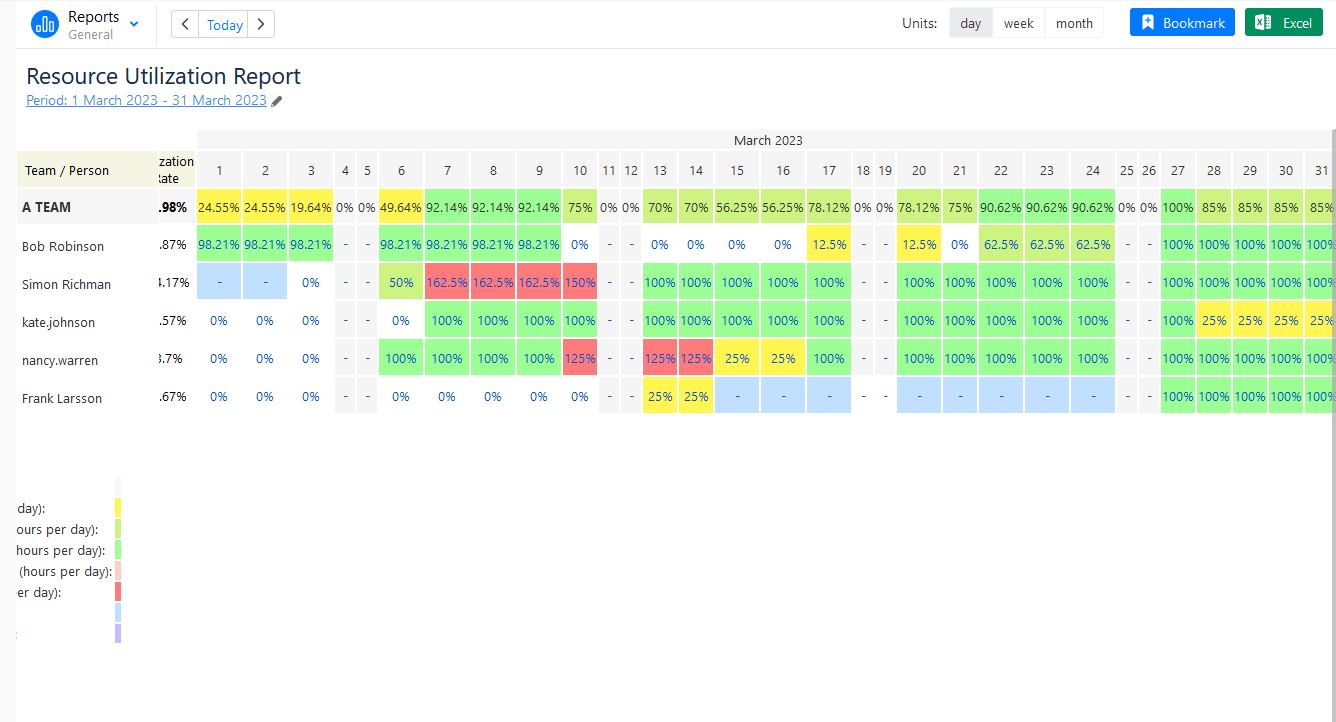 Other popular reports are Resource Availability Reports that help to find available resources for tasks/projects effortlessly:
Person Availability Report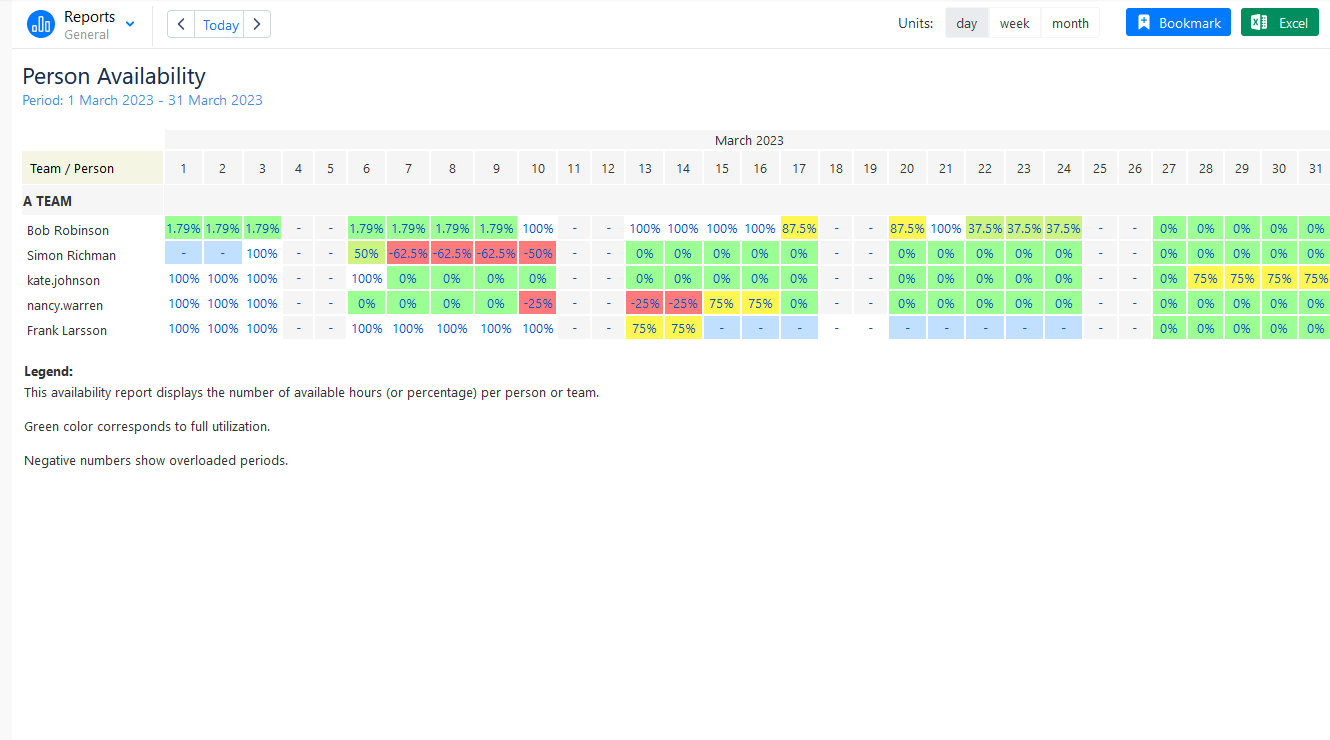 Team Availability Report
All reports can be exported as an Excel file.
Users Also Ask:
How project management and resource planning are connected?
Resource planning is an integral part of project management, as it helps to identify the resources needed to complete a project and to ensure that the project is completed on time and within budget.
Does the management of resources ensure project success?
Yes, the management of resources can be a key factor for project success, as it enables the efficient allocation of resources and minimizes the risks of project failure. The effective management of resources can ensure that a project runs smoothly and meets its objectives.
How to choose the best resource planning tool?
Evaluate the features of the resource planning tool to ensure it meets your organizational requirements, consider its cost, as well as its scalability and flexibility, and start searching. Read reviews and customer testimonials and do not hesitate to start trials to test different options.
By the way, Activity Timeline provides a great opportunity to start a Free Trial as well as to Schedule a Free Demo where you can ask all of your additional questions for a better understanding.
Conclusion
Implementing a streamlined resource management process is essential for businesses to be successful. By creating detailed workflows and leveraging automation, businesses can optimize their resource management processes and make better decisions. With the proper resource planning add-on, businesses can take advantage of Jira's powerful capabilities to manage their resources more efficiently.